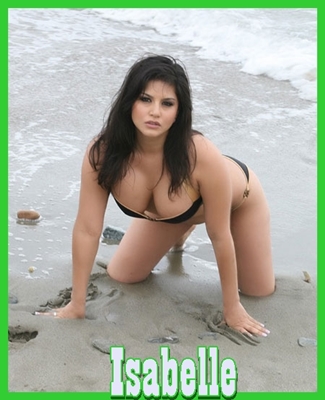 Let's hang out at the beach this afternoon after my exams.  Watch me build a sand castle at the water's edge. You think I look cute playing in the sand, but you think I look sexy too. You are enjoying the view of my breasts. You play with your cock a little bit.
You like the position that I am in. Fucking me on my hands and knees is our favorite position.
The beach is empty today, just the two of us. None of our friends could make it out here today. Privacy has its advantages! You take me on that beach.
You pull down your swim shorts just enough to expose your thick hard cock. I take you into my mouth. I deep throat your cock. You grab my hair and give my mouth a very sexy little fuck. You moan with pleasure as I look up at you with my dark eyes. You look down at me and think that I have never looked more beautiful as you watch your cock disappear with my lips tightly wrapped around your shaft. I take every inch. I softly gag and you pull out of my mouth so I can catch my breath.
We look around. No One in sight! Yeah! You move behind me. You slip my bikini bottom to the side and enter me from behind. Now it is my turn to let out a fantastic moan when I cum all over your cock.  You thrust and thrust as you fuck me hot, rough and wild right there on the beach.
This Kinky Coed Kittens blog post written by Isabelle
View Isabelle's
PHONE SEX PAGE HERE
Dial
1.866.704.9517
to call Isabelle. Major credit cards accepted by phone for phone sex.