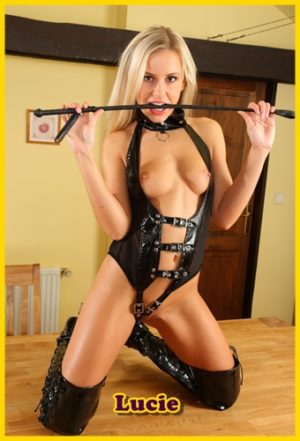 With all that girls can discover on the internet today, we are wild and self-indulgent. When hot teen girls want something, we go after it, and I want you. I have been babysitting for you all summer and my teen pussy has been wet for you all summer.
While you're at work, I go through the history on your laptop in your home office. I see what a naughty boy you are. All that porn you watch. Now that I know your secrets, I know how to take advantage of your weaknesses and your fetish for being dominated.
From innocent and sweet little Lucie, I transform myself to your wicked Mistress. I will own you tonight. You will be my love slave. Adore me, worship me, obey me! I'll make you get on your knees!
Isn't there something even more perverted when you're dominated by a tiny teen, like me, than a mature, busty lady?
I have the perfect outfit that I found online. When I googled Femdom, there was a website with Femdom latex fetish wear. I am so tiny that there is not much in my size, but there is one sexy black outfit sort of similar to one a lady was wearing in one of your favorite porns.
You don't stand a chance tonight! I will make you submit to me!
Your Wicked Teen Mistress,
Lucie
Call Lucie @ 1-888-758-8110
Email Me: loulou4phonesex@aol.com
My Other Sites: Smitten Kittens & The Klassy Kat
This Kinky Coed Kittens blog post written by Lucie
View Lucie's
PHONE SEX PAGE HERE
Dial
1-888-758-8110
to call Lucie. Major credit cards accepted by phone for phone sex.