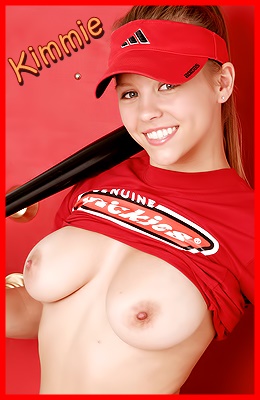 Summer is here, and so is softball. I am playing on the same team as last year with the same girls and same coach. Although, this year, this is one BIG difference. My boobs grew a lot since last year. My D-cup tits on my small frame are in the way when I swing the bat.
Lucky for me, I have a super attentive coach. He is willing to work with me one-on-one. I still have a crush on him. I like his dreamy eyes. I tingle all over when he has his hands on me. I get wet when he I catch him looking at my chest in my tight little t-shirt.
Tonight, after our regular practice, he sends all the other girls home. I stay late for extra batting practice. Our first game is coming up next weekend. He stands in front of me and watches me swing.  Then he uses his hands to position my arms, so I am in the proper stance. We laugh about my chest being in the way. Some problems are nice problems. His hands move away from my arms, and he pushes up my shirt to massage my breasts. It is exhilarating to feel him touching my tits. We kiss right there at home plate. Afraid that someone will see us, we head to the dugout. There no one will see me suck his cock and watch him fuck my big tits.
This Kinky Coed Kittens blog post written by Kimmie
View Kimmie's
PHONE SEX PAGE HERE
Dial
1.866.418.0700
to call Kimmie. Major credit cards accepted by phone for phone sex.