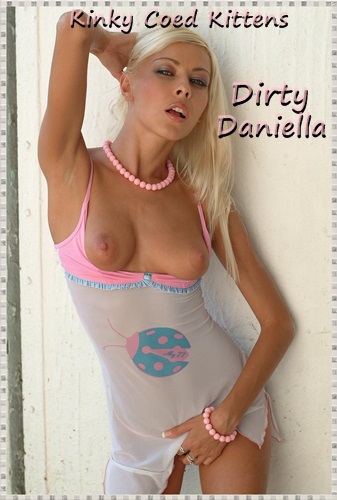 Step-Daddy just caught me playing with my pussy. I was so nervous Daddy seeing me with nothing but my nighty on. He didn't seem too mad though. He walked right into my room and sat on my bed. Daddy started rubbing his strong hands along my smooth thigh reassuring me not to embarrassed. He kept moving his hand higher, until my nighty was now was up around my neck and my titties were exposed. Daddy started rubbing my nipples. Then he pinched them hard. I have never had that done before, it felt so good. Daddy said, "baby, I can show you a lot of things." He leans forward and kisses me deeply. His hand wonders between my legs sliding a finger into my tight honey hole. Daddy keeps fingering me adding more fingers then I have ever had. Then Daddy says, "Daddy is going to taste you, baby." He never stops finger fucking my little pussy, as he kisses down my tummy to my hard clitty. He licks and sucks my pearly clit. "Baby, your pussy taste so good," while still stretching my pussy with all his fingers. Daddy then takes off his pants. Wow! It's so big and hard. Daddy tells me, "touch Daddy's cock, baby." I wrap my soft hand around his shaft. I start sliding my hand up and down. It feels so good in my palm. "Now, put Daddy's cock in your mouth." I love making my Daddy so happy. I feel so close to him. Daddy tells me I am really good at sucking dick. I love it. It taste so good. Daddy then guides me up on top of him and starts teasing my pussy lips with the head of his cock. It is making my pussy ache and I can't take it. "Daddy please give it to me, let me feel your cock inside me," I beg. Daddy gives in and pushes his cock into my tight  pussy. As I feel the penetration I tell Daddy, "I love you Daddy." With ever push I tell Daddy just that. I do love him so much. I am his special baby girl and I love when he fills my pussy up with his Daddy cum.
This Kinky Coed Kittens blog post written by Daniella
View Daniella's
PHONE SEX PAGE HERE
Dial
1.866.414.6284
to call Daniella. Major credit cards accepted by phone for phone sex.