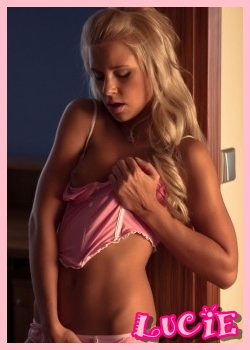 You were supposed to tuck me in bed an hour ago.  I got ready, but I am not sleepy. I put on my pink pajamas and brushed my teeth. You kept me waiting too long. I started to play without you tonight. Bed time is our private play time, but you are in the living room watching stupid sports.
I pulled down my top and squeezed my little boobies. That makes my whole little body tingle, especially my little pink pussy. I am wet and need to play. I start without you and let my fingers pleasure myself.
You walk in and catch me. You shouldn't keep me waiting. I am going to play until I squirt. You know that I can't sleep until I cum. You can just watch as I tease and deny my pussy to you. Punish you for making me wait.
Ha Ha! 
I am such a brat! I bet you don't keep me waiting for you to play with me again!!! 
Little Lucie

This Kinky Coed Kittens blog post written by Lucie
View Lucie's
PHONE SEX PAGE HERE
Dial
1-888-758-8110
to call Lucie. Major credit cards accepted by phone for phone sex.