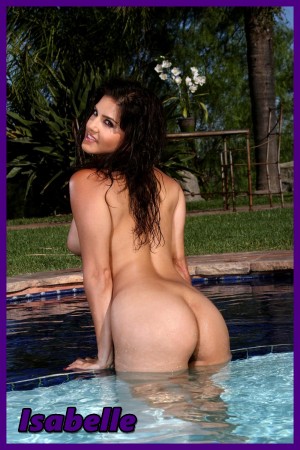 Your house is the biggest and has the best pool on the block. It seems sinful to let it just sit there all day with no one ever using it.
The reflection of the Miami afternoon sun reflecting on the pool is beautiful. I want to hop the fence and jump right into your pool. I don't even have a bikini with me. I walk up to the gate and just stare at your pool. So peaceful and beautiful.
Your house appears empty. Just a quick dip. No one needs to know. Just this once. I love to go skinny dipping during the day. I love the feel of the sun and the water on my naked body. I notice that the gate is unlocked. I take that as an open invitation and open the gate. I can't resist the urge to strip naked and dive into your pool. My heart is racing. I know I am being bad, but sometimes it just feels so good to be bad.
What I don't know is that you are working at home today. You look out the window when you hear the metal gate swing open. You watch me. You are kind of mad, but kind of turned on at the same time. You walk outside. You are not quite sure what you will say to me.
I see you walking towards the pool.  I explain that your pool was an irresistible temptation. As I am standing there naked in front of you, I tease you. I ask you if have ever experienced an irresistible temptation as I point to the bulge in your pants.
This Kinky Coed Kittens blog post written by Isabelle
View Isabelle's
PHONE SEX PAGE HERE
Dial
1.866.704.9517
to call Isabelle. Major credit cards accepted by phone for phone sex.